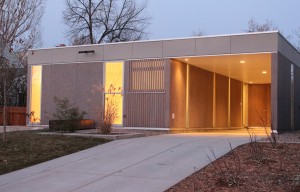 **SOLD**
but discover his latest project PLINTH HOUSE
Bill Buyers, architect and builder, designs with a timeless modern aesthetic reminiscent of Denver's historic mid-century modern architecture. An admitted perfectionist, he insists on high quality workmanship and finishes. For this home,  Bill implemented a "no waste" sustainable building design:  
"The eight-foot house describes a "passive" approach to the idea of sustainable design. Rather than focus on expensive active technologies the house embraced eight foot materials to drive the design process. This no waste approach began with the use of five structural bays infilled with eight foot tall wood studs. This system allowed for the use of full height cedar plywood panels at the exterior and full height gypsum board sheets at the interior. Eight foot tall doors and windows extend from floor to ceiling. What results are efficient, open spaces filled with natural light and cross breezes.
The organization of the interior spaces is a direct response to creating a relationship with the outdoorenvironment. The one story house sits on a concrete base to take advantage of the four foot slope across the site. A carport off the street serves as parking and a covered entryway at the middle of the house. This mid-house entryway allows for the living and dining spaces to be placed at the rear of the house, connected to a walkout patio and green space. The three bedrooms occupy the front portion of the house, held above the ground by the concrete base to provide privacy from the grade below."
…read more in the Winter issue of Modern in Denver magazine here:   "The 8 Foot House"         
 $611,100.
2300+ square feet
Only a stone's throw from Arapahoe Acres, the "Eight Foot House"  is actually located in Denver and the Slaven's Elementary boundary.  Basic details:
Main level
3 bedrooms
2 bathrooms
open kitchen/living room w/ large glass wall facing back yard
Basement:
large rec room/home theater/or ?
bedroom/office
rough in for 3rd bathroom
storage closet
laundry room
storage/utility room
There is also a 2 car tandem carport with an adjacent 180 square foot secure storage room. The exterior is clad with custom cedar siding and cement board.
   720.279.4884
Photography by Dana Miller of Miller Hall Photography MillerHallPhoto.com 
Summary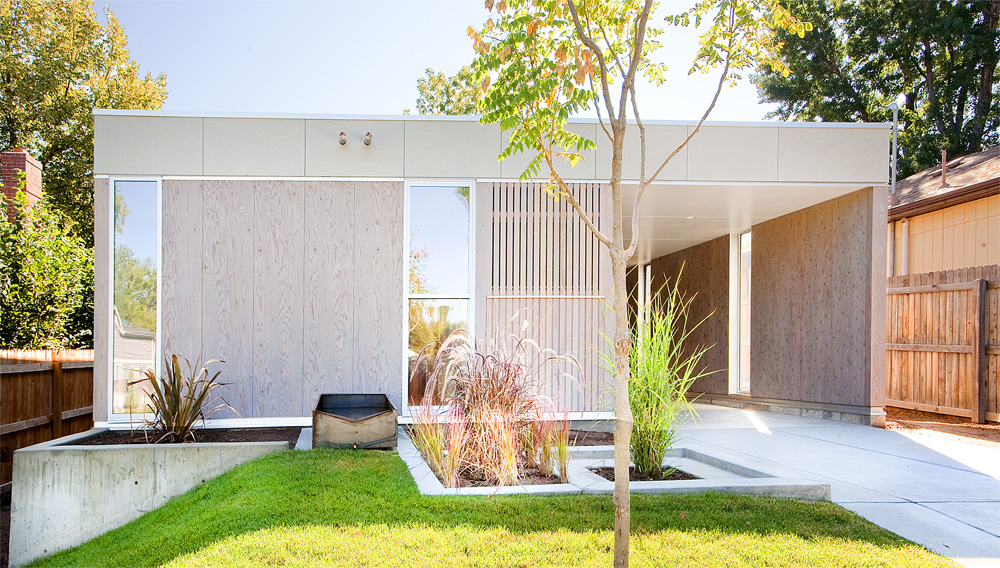 Article Name
The 8 Foot House by Bill Buyers| 720 Design
Description
Bill Buyers, architect and builder, designs with a timeless modern aesthetic reminiscent of Denver's historic mid-century modern architecture. An admitted perfectionist, he insists on high quality workmanship and finishes. For this home,  Bill implemented a "no waste" sustainable building design
Author
Publisher Name
Publisher Logo